Introducing: The Website Content Prompt Workbook (+ an unbranded version!)
Well well well, what do we have here - look who's finally turned up! And by who, I mean me, and by turned up, I mean finally produced the resource I have been planning since the dawn of time (or when I first wanted to get into the website business). Today on my little blog I'll be introducing the Website Content Prompt Workbook, throwing some tips out on how to plan your website content, and at the end you can grab a few pages from the workbook - for FREE! And buy the whole thing too if you wish hehe.
Let's just jump straight into WHY
When I first begin website design I was adamant I should write the clients content, take photos AND design the site.
Long story short, although I love words, I do not have the time or patience to write copy for others
and although I love photography, I also do not have the skillset to offer this service. So I began to hone my website creation skills and really focus on what I was bringing to the table design-wise. This went well, until I hit the first bump in the road - a client who needed a site, but was going to write their own content. Now I'm not saying every website client of mine can't write content - but at that stage, there were definitely a handful that struggled. AND I DIDN'T KNOW HOW TO HELP.
I wasn't a copywriter, I wasn't a business mentor or a strategist - I was good at taking quality content and turning it into a website masterpiece.
Major pain point as a site designer: It's hard to create a quality site without quality content
So I approached a copywriter who I began sending all my website clients to in the hope of getting back quality content. IT WORKED! For the most part. For every handful of clients I sent their way and booked in, there would be the few that were not in the position to either invest in a copywriter (fair enough) or wanted to DIY their own content (mostly fair enough if they had the time/patience/skill) but for a small minority who couldn't invest in copywriting AND weren't skilled up on writing content - we had to fumble along as best as we could.
Eventually I introduced a Website Questionnaire that had the basics of what was needed for a functioning site (which has been working fine) but an idea began to brew about just what I could do to provide a solution to this pain point. Fast-forward 2 or so years we have finally arrived! A workbook I can send clients to help them plan their content if they are writing it themselves (without me telling them how to write it, again - not a copywriter!) OR just anyone can purchase and use if embarking on a new website and wanting DIY their content and get clued up on what's needed.
What is it?
The Website Content Prompt Workbook is a comprehensive guide to planning your website content and can either be used as the foundations of writing your website content or is a great starting point to send to a copywriter if you do not have the time/skillset to write your own. It is born from the frustrations of both website designer AND client on how to both request and present well-planned website content and hit all the basics needed. The idea is to use the workbook if you are planning your own content and use the prompts to help you identify what you want to add to your site and tips on how to send your content to your designer.
Note: The Website Content Prompt Workbook has been designed in a way that anyone can use to plan their website copy, but in some sections the fields may only apply to the Squarespace platform that I myself design client sites on. This is not anything to worry about and if you are using Wix / Wordpress / another website platform, the fields may still apply in some shape or form or with a different name, so you can definitely still fill them out.
What's the 'unbranded version'?
This is a version of the workbook that is exactly the same but more standard in design as well as not having any website URLs, logos or reference to January Made Design - so basically it's for any designers out there that are short on time and want to provide a resource for their clients but don't time to create their own just yet. So you are welcome to purchase the Unbranded version and use it as your own!
You can even use Adobe Acrobat Pro to edit the PDF and change the text to your own words or more specific to the platform you are using.
Quick note to say I will be producing an editable Indesign template of this workbook in the next few months that you can fully customise - just bare with me as Indesign templates take a lot more time to create! I'll keep you posted :)
What's Included?
This 35 page interactive and printable PDF workbook includes:
+ This 35 page interactive + printable PDF includes:
The Research
Purpose & Goals
Target audience
Website inspiration
Navigation brainstorm
The Details
Domain information
Back-end information
SEO description
Page Prompts
Home
About
Services
Blog
Shop
Contact
Additional content
Announcement bar
Promotional Pop-Up
Coming Soon page
Additional Page Ideas
Bonus
How to prepare and send your content to your website designer (which includes a 4 step system, an example of how to structure your content folders and a good/bad formatting example)
How is it different from other website content workbooks?
There are a lot of fabulous content planners out there that teach you how to write good content for your website and often focus on just the informational pages (home, about, contact, services etc).
This workbook is unique because it offers prompts for those pages PLUS prompts for all your site settings and additional pages such as coming soon pages, announcements and pop-up promotions.
It basically highlights every part of your site that can be added to and tweaked to reflect your brand tone of voice - right down to ecommerce custom notifications (did you know you can snazz up the automatic emails sent to your customers when they buy something?!) and blog side bar info and add-ons (social icons, categories, calls to actions, search bar etc).
It also offers tips and advice for preparing and sending your content to a designer (or a copywriter). Your designer/copywriter will most definitely have their own process for eliciting information, but this workbook can help you mentally focus on what's needed and physically write out and plan each content section and may help you to make their job a bit easier.
Who is it for?
This workbook is for those who are capable and have the time to plan and write out their content but perhaps don't know where to start or what they need to prepare.
It is also a great resource for anyone working with a copywriter but wanting to start on the right foot and make sure they are giving their copywriter enough info to get started.
Who is it not for?
Those who are looking for a help guide on how to actually write good content or tips on grammar /spelling/key words and brand tone of voice etc.
This workbook is very much a springboard for what content to have and has tips and examples - but it isn't a copywriting 101 workbook. That's when you need to seek a copywriting professional (like Wordfetti!).
Can I use it if I am not using Squarespace?
Absolutely! So while this workbook does use terms and content sections used on the Squarespace platform, it will still apply to Wix/Wordpress/whatever, they might just have different names OR depending on your website plan or your designer, some of these content prompts won't be applicable.
But yes definitely you can still use this workbook no matter what website platform you are on!
How to best utilise the workbook
The best way to describe the Website Content Prompt Workbook is that it is a workbook full of prompts for what content your site CAN have rather than a best practice guide for HOW to write content.
It is focused on educating you as a web design client on what content you can prepare for your website designer or copywriter, and all the different ways in which you can add your brand tone of voice and messaging.
It is not to take the place of actual copy writing or to help you write content better. It has been designed to offer you a more thorough look at what can be included and some reasoning and examples of what you can write.
The Website Content Prompt Workbook isn't a one-size-fits-all kinda work book
it's more a general springboard for content ideation and creation, and not all pages are covered or all points. Just an overarching view on the website content that may work well for most standard websites but is in no means an exhausted workbook for every business niche out there.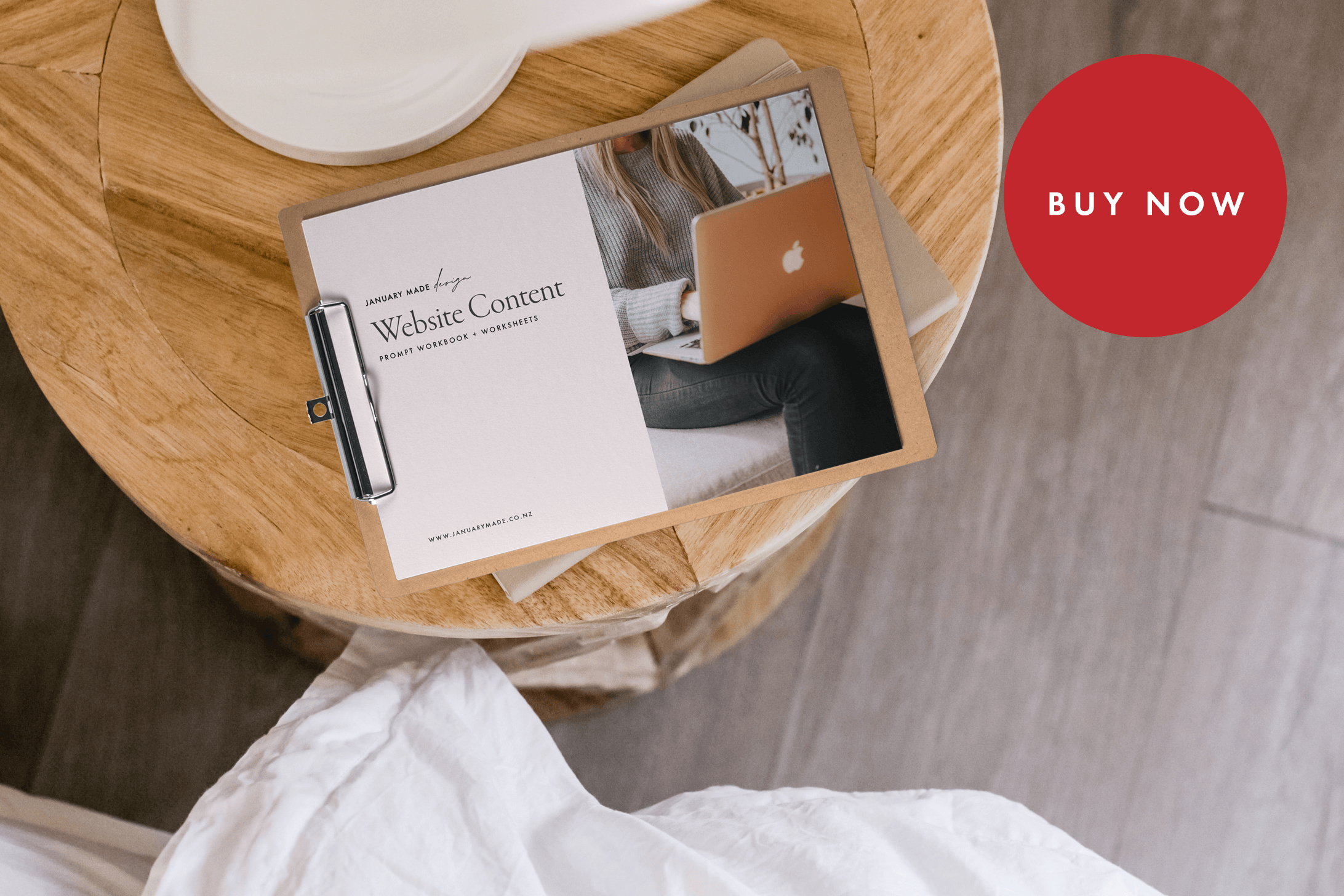 Website Content Prompt Workbook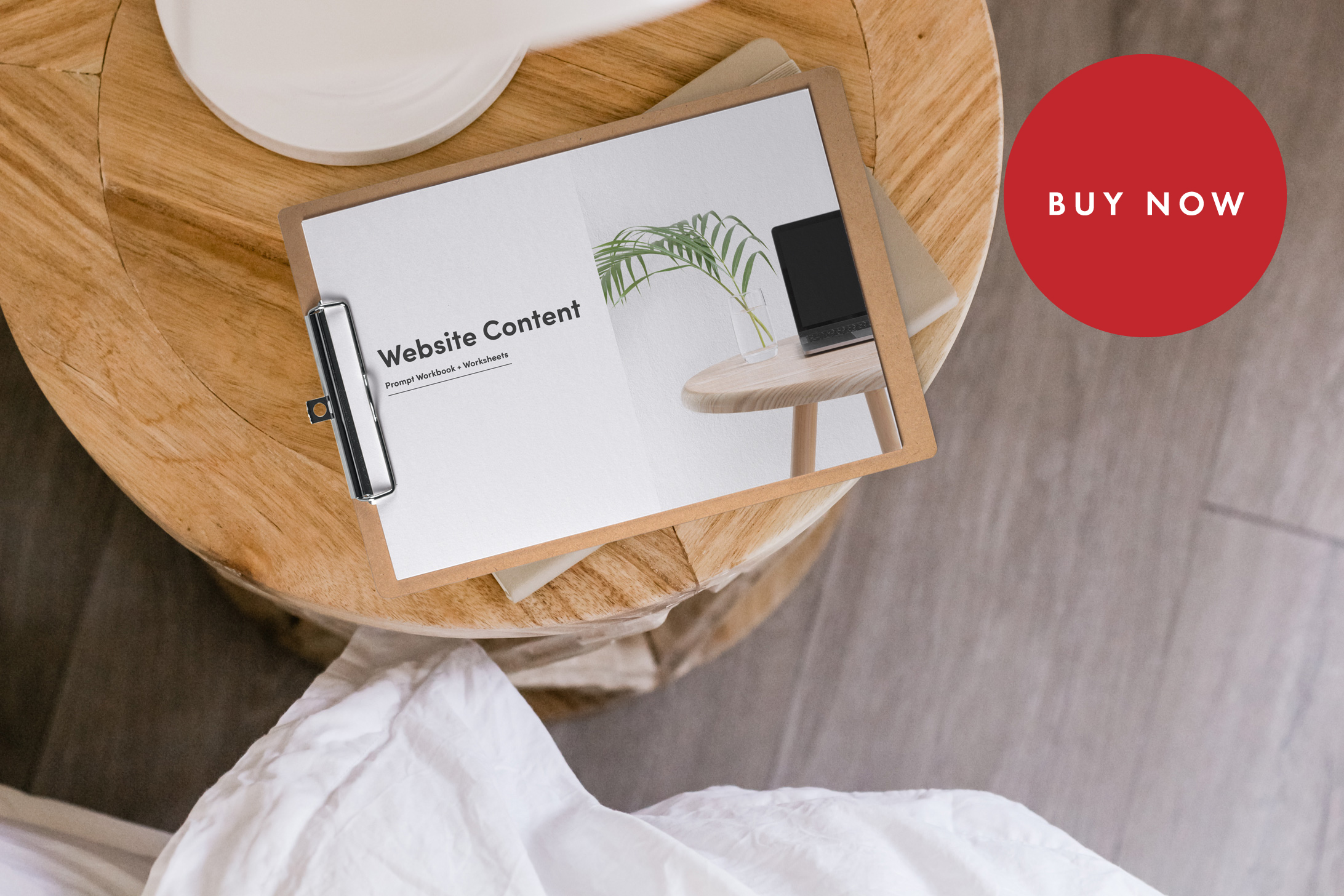 Unbranded Content Prompt Workbook
So there we have it, a brand spanking new resource ready for you if you need it :) Below is a free download of a few page excerpts, as well as a link to the full workbook if you feel like purchasing the whole thing!
Thanks so much for reading xx
Download the Free workbook pages!